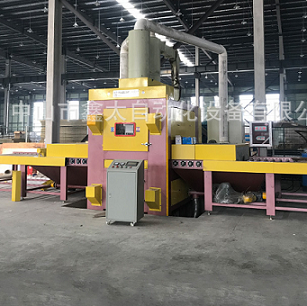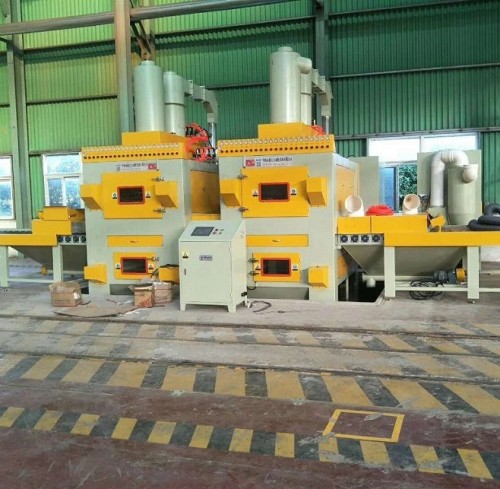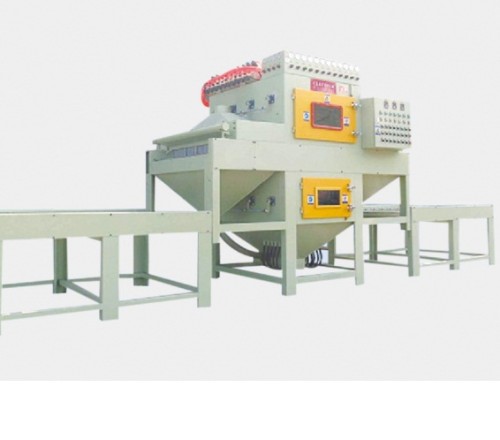 Automatic double-sided sandblasting equipment for stainless steel plate
Description
| | |
| --- | --- |
| Model | XT1560-12A |
| Dimensions | 8000*1800*2300 |
| Indoor size | 2000*1800*1200 |
| Separator size | 950 high * 600 diameter |
| Split dust box | 400mm*1400mm, Design 9 filter cores with 1 set |
| Dust removal power | 7.5Kw 380v=1 set |
| dust removal air volume | 5600 cubic meters / h |
| Wind pressure | 1820pa |
| Lighting | five 18w fluorescent lamp |
| Number of spray guns | 12 (aluminum alloy with boron carbide nozzle) |
| Shell | 3.0-6mm cold rolled steel plate welded |
| Perspective window | 2 frames |
Inhalation type blasting, that is, using compressed air to flow at a high speed in the lance to form a negative pressure to generate an ejector, the sand in the cyclone tank is sucked into the lance through the shale pipe, and then jetted at high speed by the nozzle with the compressed air flow. Go to the surface of the workpiece to achieve the purpose of steel pipe blasting.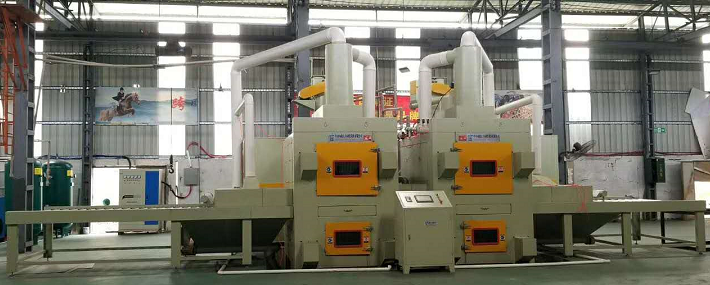 Air pressure is greater than 5.5bar (kg/cm2) [Air compressor is more than 10 cubic meters] Machine processing efficiency:
The speed of processing ordinary stainless steel plates with a width of 1560 mm is 0.5-2 m per minute, including the front and back sides, and the surface reaches the sa2.5 level.
Can handle 0.3mm stainless steel plate without deformation, five yin and yang. Sandblasting evenly
1. It can work all day, and the work is not interfered by the external environment.
2. Pollutants and other pollutants discharge in line with national environmental standards.
3. Adopting pneumatic recovery type abrasive recovery method.
4. Low failure rate, simple maintenance and low cost.
3. Environmental protection:
A. The environmental issues involved are: industrial dust, vibration, and noise.
Industrial dust emission set ventilation and dust removal system, emission concentration ≤120mg/m3, emission rate ≤3.5Kg/h
Noise: machine equipment ≤ 70DB (national standard)