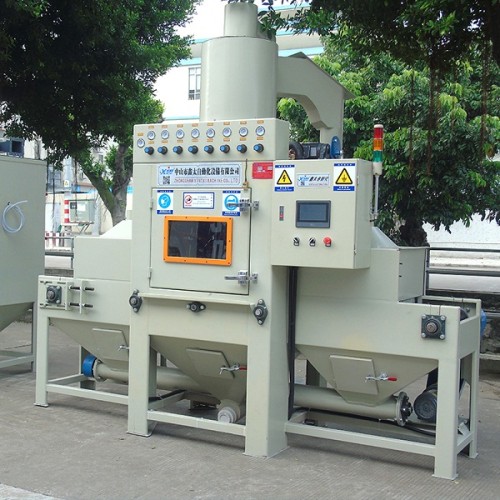 XT-8060-8A conveyor automatic sand blasting machine
Description
This machine is suitable for eliminating dirt, scratches and other debris on the surface, so that the surface can be matte. It can also be used for other plates, flat materials, descaling surface and uniform sandblasting surface and surface adhesion. Or used in the pretreatment process before spraying, plating, and painting.

A: The position of the spray gun frame can be adjusted according to the size, shape and height of the workpiece. It is suitable for sandblasting of various workpieces and is easy to operate.
B: It has good sealing performance, with dust sand separator and dust box, and it has uniform effect and meets environmental protection requirements.
C: It adopts two-way frequency conversion adjustment, and the gun swing and conveying speed can be adjusted.
D: This machine is equipped with 8 spray guns, which can be adjusted according to needs, and the efficiency is extremely high.
E: The whole machine is guaranteed for one year (except for wearing parts), so that you have no worries;
| | |
| --- | --- |
| Equipment dimensions | 3800mm length 1200mm width 2300mm height |
| Equipment working room size | 1800mm long * 750mm wide * 1000 high |
| Dust box | Drawer type waste bucket, pulsed dust removal |
| Dust removal fan | 3KW 380V 50HZ (drawer type waste bucket, pulse type dust removal) |
| Lighting | 18w fluorescent lamp 2 |
| Number of guns | 8 (aluminum alloy with boron carbide nozzle) |
| Shell | 2.5mm-6mm cold rolled steel plate welded |
| Perspective window | 2 frames |
| Lower sand bucket | 3 |
| Side door | front opening 800mm high *700mm wide |
| Air pressure | 5-8bar (kg/cm2) (air compressor is demand-side equipment) air compressor at 12 cubic meters |