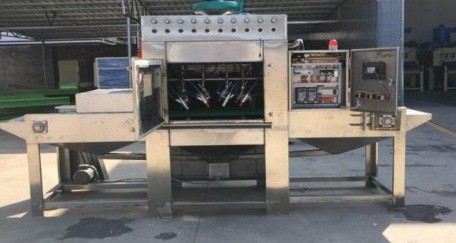 Liquid conveying type sand blasting machine
Description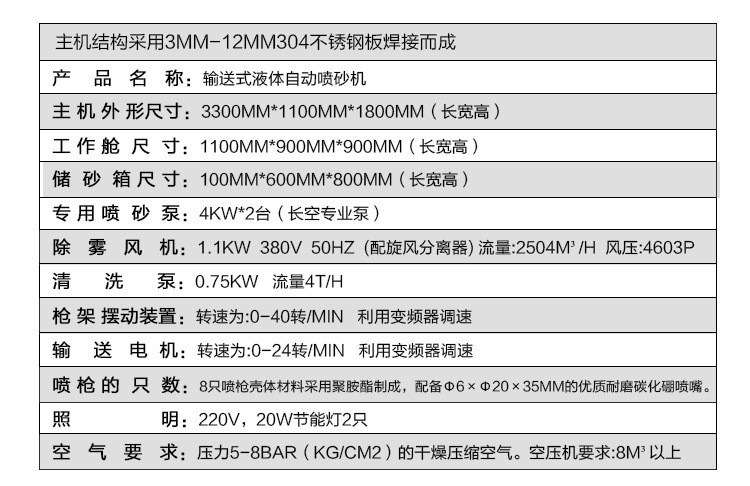 Xintai Machinery has a complete customer service system to provide customers with professional and timely pre-sale, sale and after-sales services:
1 Before the sale:
(1) In the early stage of equipment project design, the customer should know the basic requirements of product production, customer's design suggestions, use requirements, etc., and carry out professional design to ensure the safety, applicability and reliability of the design plan to meet your proposed use. Claim.
(2) In the design of equipment, under the premise of fully considering safety, applicability and economy, according to the production needs of customers, adopt the optimal design scheme, greatly protect the customer's on-site production environment, and try our best to satisfy customers' high efficiency and environmental protection. Production requirements.
(3) Before the contract is signed, make necessary design instructions to the customer for the design plan, so that the customer can have a more detailed understanding of the equipment design before the contract is signed, which is convenient for decision-making.
2 In the sale:
(1) When the contract is signed, provide detailed, true and accurate technical documents and materials according to customer requirements, so that customers can effectively supervise and manage the progress of the project during the installation and construction of the equipment.
(2) After signing the contract, actively cooperate with the customer's overall project progress, obey the overall scheduling of the customer's project, complete the installation and commissioning of the equipment in a quality and quantity within the time limit stipulated in the contract, and submit your acceptance on schedule.
(3) During the installation and commissioning of the equipment, strengthen the on-site management work to achieve safe and civilized construction, and provide a neat and clean environment for the equipment installation site.
(4) After the installation and commissioning is completed, equipment operation and maintenance training services:
3 After-sales service:
1. Equipment quality assurance: The year of equipment acceptance is a free warranty service period. We provide repair services for problems other than consumable parts. After the expiration of the warranty period, a lifetime and timely repair service is provided, and only the material cost fee is charged.
2. After-sales service guarantee: After receiving the after-sales service repair call, the after-sales service technicians respond within 15 minutes. For the need for on-site maintenance, the problem is solved within 24 hours, the equipment failure is not ruled out, and the maintenance site is not evacuated.