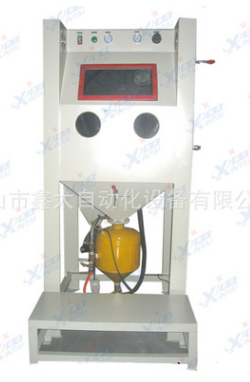 High pressure sand blasting machine
Description
The machine adopts a pressure-feeding type blasting (blasting) mechanism, that is, the high-pressure flow of the compressed air in the high-pressure tank is performed, and the sand in the high-pressure tank is sprayed through the sand pipe, and then the nozzle is compressed by the airflow. High-speed injection onto the surface of the workpiece for sandblasting.
A. The machine has novel design, simple and reliable structure, convenient operation, high processing efficiency and low energy consumption.
B. The spray gun set adopts a fixing mechanism to adjust the spray distance and angle to achieve the best blasting effect.
C. This machine adopts separate separator, shot blasting machine, cyclone separation and pressure tank, and dust box three-part, which can separate the abrasive which can be used continuously and the useless dust, thus greatly reducing the consumption of abrasive.
1. The casing is made of 2.5-6.0mm cold-rolled steel plate, the surface is sprayed, and the key parts of the blasting area and the blow-off area are covered with silicone skin. The machine is sturdy and easy to use. The machine is divided: (machine main box, dust box, cyclone separation pressure tank)

2. There is one gun in the blasting cabin. The spray gun is equipped with 8mm large boron carbide nozzle. The spray gun is equipped with a fixed gun frame. The blasting distance, angle and position can be adjusted according to the user's product requirements.
3. This machine is equipped with a see-through window, which can directly observe the whole process of processing and keep abreast of the processing situation.
4. This model is a special machine designed for molds or large and heavy-duty workpieces.
5. Install the activity trolley and turntable. When you are working, you only need to place the workpiece on the turntable of the trolley, and then push it into the machine to engage in sandblasting, which is very simple and labor-saving.
| | |
| --- | --- |
| | |
| Equipment working room size | |
| | 220V, 32w energy-saving lamps 2 |
| | |
| Dust box exterior size | 600*600mm |
| Dust removal motor | 220V 50HZ 3.0KW |
| | diameter 350mm* height 480mm |
| | |
| | |
| Reinforced trolley frame | 1000mm*1500mm |
| | pressure 5-8bar (kg/cm2) |
| | |
Commonly used abrasives: stainless steel shots, steel shots, steel sand, silicon carbide, glass beads, etc.
Surface treatment of descaling, residue, and burr of molds, castings, stampings, weldments, heat-treated parts, etc.; and inside and outside of various small and micro workpieces, removing carbides, polishing and roughing, finishing The stress is relieved.