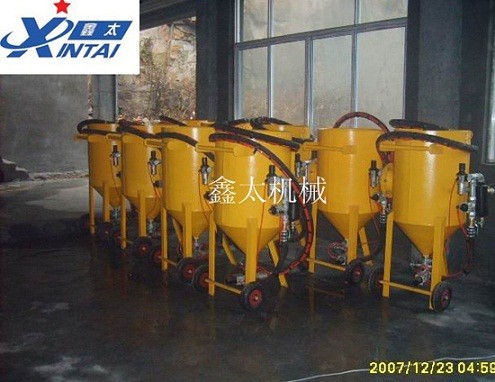 Direct pressure type mobile sand blasting machine
Description
1. The casing is made of 8mm cold-rolled steel plate and the surface is sprayed.
2. The sand blasting machine is equipped with one spray gun, and the spray gun is equipped with a tungsten steel nozzle of 8 mm.
3. The amount of sand can be adjusted by the handle under the body.
4. This machine is equipped with a 15 meter sand pipe.
5. Manual stroke air control switch (convenient operation).
6. The machine requires more than 3 cubic meters (about 22KW) air compressor.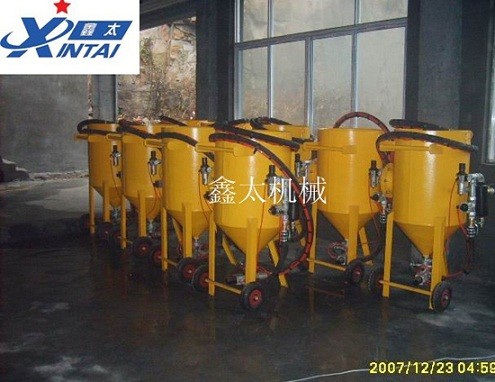 | | |
| --- | --- |
| Dimensions | Φ600*1450(mm) |
| Self weight | 210KG |
| Total volume | 0.3m3 |
| air pressure | 0.6-0.8Mpa |
This machine adopts a pressure-feeding sandblasting (shotting) mechanism, which uses compressed air to flow at high speed in a high pressure tank.
The action is carried out into a high pressure, and the sand in the high pressure tank is sprayed through the sand pipe, and then sprayed to the surface of the workpiece by the nozzle at a high speed with the compressed air flow to achieve the purpose of sandblasting.
Used to clean steel structures, molds, fitness equipment, engine casings. Glass, stone carving, shipbuilding, bridges, mining, machinery, oil pipelines, water conservancy projects, port construction, etc., rust removal, spray processing, stainless steel matt treatment, descaling, burrs can also be used for spraying, pre-plating treatment The process is to improve the adhesion of the surface of the coated (plated) layer to all surface treatments.
Machine installation
1. Connect the intake pipe. 2. Wear protective gear.
Remarks: 1 set of the whole machine, send accessories: 1 set of protective clothing, one rubber pad, one rubber core.