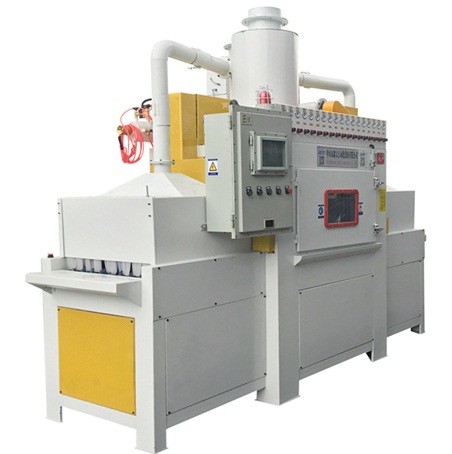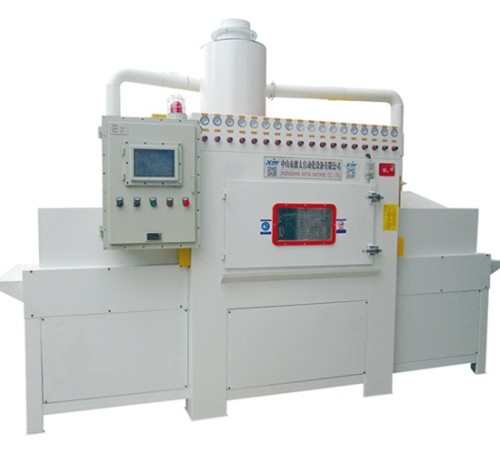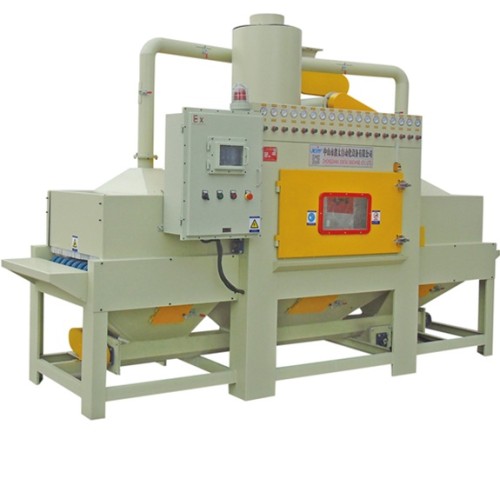 Conveyor type automatic sandblasting machine
Description
| | |
| --- | --- |
| Sandblasting area size | 1600mm (length) × 1100mm (width) × 830mm (height) |
| Overall dimensions | 3700mm (length) × 1920mm (width) × 3200mm (height) |
| Feed inlet | 1100mm (width) |
| Dust box size | 1200mm (length) × 1200mm (width) × 2400mm (height) |
| Sandblasting gun | a total of 18 in 4 groups (swing speed stepless frequency control, angle can be adjusted 360°); belt horizontal position 2 (fixed) |
Energy allocation and consumption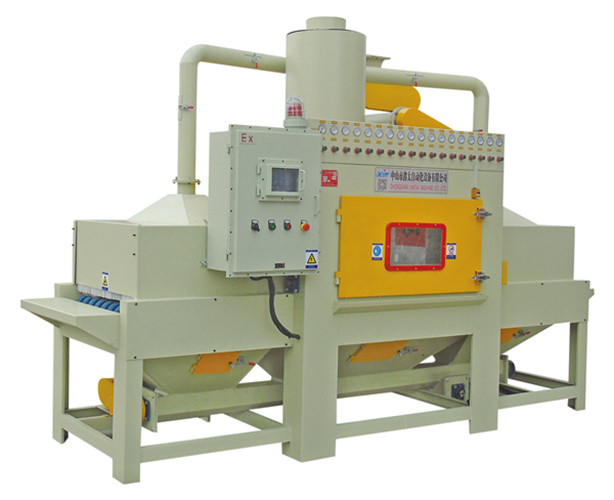 | | |
| --- | --- |
| one centrifugal fan | 5.5kw |
| One spray gun swing motor | 0.75kw |
| one conveyor motor | 1.5kw |
| One horizontal spiral motor | 0.75kw |
| lighting and control circuit | 0.25kw |
| the upper and lower auger | 0.2W+0.75W |
| lifting motor | 1.5KW |
| the total power of the machine | except for air compressors about 11kw. |
1 This equipment has high processing efficiency, simple operation, energy saving, environmental protection and no pollution. The surface of the product after blasting is clean, no adhesion and debris, and the surface blasting effect is consistent.
2 The gun is rocking and the swing frequency of the gun can be adjusted.
3 This machine is equipped with a variable frequency speed control conveyor belt with a conveying speed of 0.5-3 m/min, which can be adjusted as needed. A support shaft is mounted on the lower part of the belt. Can withstand 150KG weight.
4 This machine is equipped with cyclone separator, which can effectively separate the usable abrasive and dust, can recover the escaped sand, reduce the loss of sand and save cost.
5 Equipped with independent dust box and dust removal fan, it can effectively clean and collect the dust scattered in the chamber to prevent dust pollution. With the separator, the sand circulation of 8 spray guns can be fully supplied.