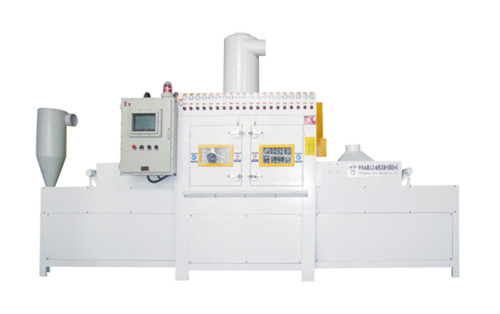 XT-1816-16A conveyor automatic sand blasting machine
Description
Eliminate the appearance of dirt, scratches and other debris, so that the surface is matte, can also be used for other forging castings, welded parts, heat-treated parts, stamping machine parts, electronic parts, rust removal, descaling surface Bright and uniform blasting surface and process for increasing surface adhesion or pre-treatment for spraying, plating, and painting.

A. The casing is made of 3-10mm cold-rolled steel plate, the surface is painted, and the key parts of the blasting area are covered with silicone skin.
B. There are many guns in the blasting cabin according to customer's requirements. The spray gun is equipped with 8mm large boron carbide nozzle. The spray gun is fixed by fixed gun frame and can be automatically oscillated. The spray gun can be adjusted to adjust the blasting distance, angle and position completely. Can be adjusted according to the user's product needs.
C. The machine has novel design, simple and reliable structure, convenient operation, high processing efficiency and low energy consumption.Spray gun swing
D. The spray gun set adopts a fixing mechanism to adjust the spray distance and angle to achieve the best blasting effect.
E. This machine is equipped with a separator, which can separate the abrasive that can be used continuously from the useless dust, thus greatly reducing the consumption of abrasive.
F: The whole machine is guaranteed for one year (except for wearing parts), so that you have no worries;
G: Can be customized according to customer requirements for non-standard models

| | |
| --- | --- |
| Equipment dimensions | 5200mm length 1500mm width 2000mm height |
| Equipment working room size | 1200mm long * 1350mm wide * 800 high |
| Dust box | 1000mm long *1000mm wide *2000 high |
| Dust removal fan | 7.5KW |
| Lighting | 18w fluorescent lamp 2 |
| Number of guns | 16 (aluminum alloy with boron carbide nozzle) |
| Shell | 2.5mm-6mm steel plate welded |
| Perspective window | 2 frames |
| Lower sand bucket | 3 |
| Side door | front opening 800mm high *700mm wide |
| Air pressure | 5bar (kg/cm2) |
| total power | about 9.15KW |
| total weight | about 1.85 tons |